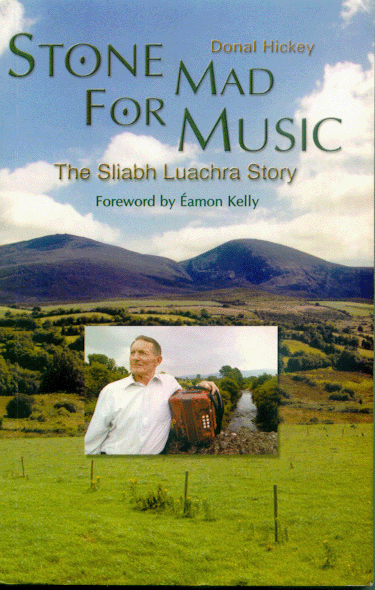 STONE MAD FOR MUSIC, a widely acclaimed book by Irish Examiner journalist and local historian Donal Hickey, draws together the different strands that make Sliabh Luachra such a special place _ the music, singing, dancing, storytelling, folklore and poetry.
The 223-page book not only tells the life stories of all the major musicians in the area, it also sketches the places and backgrounds from which they came and the history of the music itself.
Fiddle master Padraig O'Keeffe is profiled at length and referred to many times in different chapters, as are legendary musicians, such as Tom Billy Murphy, Denis ''The Waiver'' Murphy, Johnny O'Leary, Paddy Cronin and many others.
This lively and informative book also tells of the people of Sliabh Luachra and their indomitable spirit in goods times and bad.
Hickey was born in Gneeveguilla, in the heart of Sliabh Luachra, and is the editor of the Sliabh Luachra Journal, which has been published by Cumann Luachra, a local history/cultural society, for the past 20 years.
The following comments were made by reviewers of Stone Mad For Music _ the Sliabh Luachra Story:
''This wonderfully researched, beautifully written and well produced book should be in every home in Ireland,'' actor and seanachai Eamon Kelly, The Kerryman, November 29, 1999.
''A highly readable book that is as much a piece of social history as anything else,'' Michael O'Regan, The Irish Times, December 29, 1999.
''The hugely entertaining publication recalls the magical days of house dances and tells what the people of Sliabh Luachra did for home entertainment long before the advent of television, or the video recorder,'' John O'Mahony, Kerry's Eye, November 11, 1999.
''Unlike many commentators, Hickey writes with the authority of a native. He comes from Gneeveguilla, considered by many to be the epicentre of Sliabh Luachra,'' Pat Ahern, traditional music columnist, The Weekend Examiner.
''In documenting the integrity of a music, place and a history interwoven with the present, one could be forgiven for thinking this is Shangri La,'' Fintan Vallely, The Sunday Tribune, December 5, 1999.
Stone Mad For Music was published by Marino/Mercier, in November 1999. Copies available in bookshops, or from Donal Hickey, Tiernaboul, Killarney, Co. Kerry (e-mail: hickeydonal@hotmail.com). Price £9.99, plus £2 for postage and packaging.
Main Founder Member's Address Contacts Letter from Ciaran MacMathúna
Tribute to Jerry McCarthy 1995 Patron's Page
Accommodation Press Release 2001 Past Releases